"I was a bourgeois painter, then a progressive painter, and then no longer a painter, but just a worker in the pictures."
Paul Yederbeck (1965–2001)
In the framework of "Potsdam 2011 – City of the film", under the fictional pseudonym or heteronym "Paul Yederbeck" Frank Geßner staged together with the *ATELIER BERLIN PRODUCTION the polystylistic "Expanded Cinema Animation" ALIAS YEDERBECK. The large-scale cinematographic installation intertwines elements of the visual arts with media art and film, video, animation, and sound in a metafictional performance. The "auto-(author-)constructs" of the painting cycle TESTS SANS FIN and the associated multimedia archive material form the basis of twelve nonlinear panoramatic movies: Entertainer, Flaneur, Spectator, Actor, Dissolution, Projection, Anima Techne, Transcendental Animation, Happy End, Doppelganger, Reminder, The End (12-channel video) and the artist video QU'EST-CE QUE MONSIEUR TESTE? (1-channel video). Geßner was supported in this hybrid experiment by friends as well as alumni and colleagues at the Film University Babelsberg KONRAD WOLF (formerly HFF "Konrad Wolf" Potsdam-Babelsberg). RE:VOIR Paris presents the artistic research project ALIAS YEDERBECK as a virtual panorama installation with additional bonus material for the first time on DVD. This edition is accompanied by an extensive booklet with essays by the animation aesthetician Suzanne Buchan, the art historian Ursula Frohne, the philosopher Christian Katti, and the media theoretician Yvonne Spielmann.
DVD-VIDEO:
ALIAS YEDERBECK Virtual Panorama Installation, 63:00 min
QU´EST-CE QUE MONSIEUR TESTE?, 26:00 min
ALIAS YEDERBECK DOCUMENTATION
FOOTAGE, 16:00 min
Total playing time: 105:00 min
Disc: DVD-9, PAL, codefree
Image: Color & Black-and-White, 16:9
Audio: Stereo 2.0, Surround 5.1
Language: German
Subtitles: English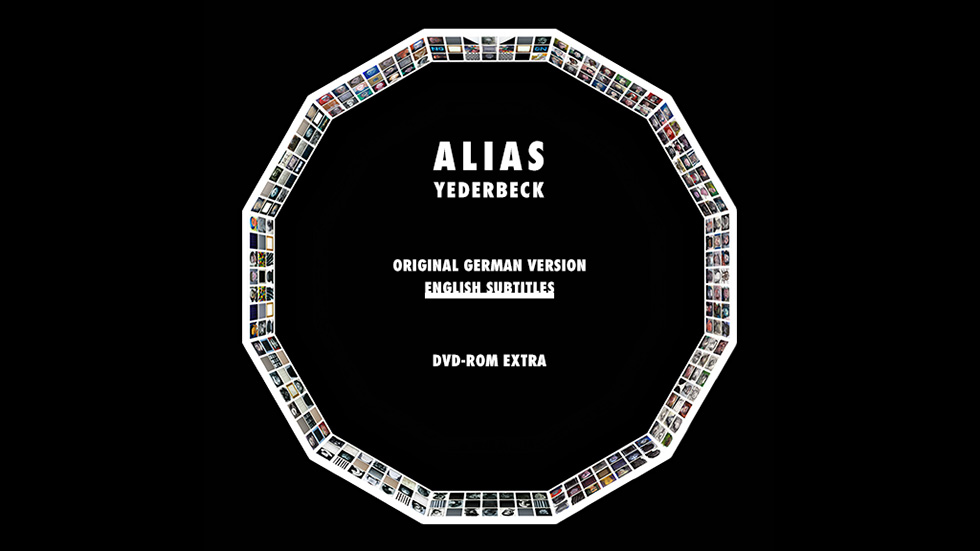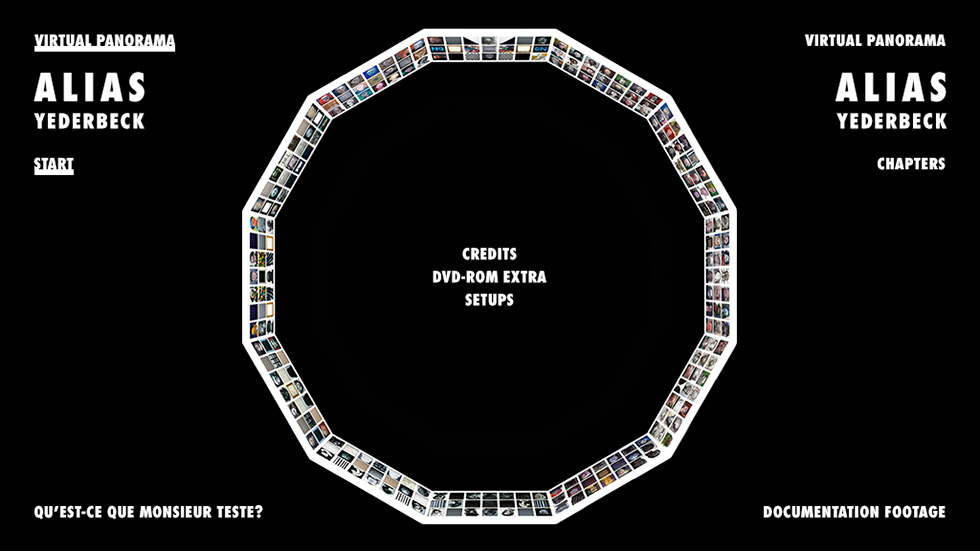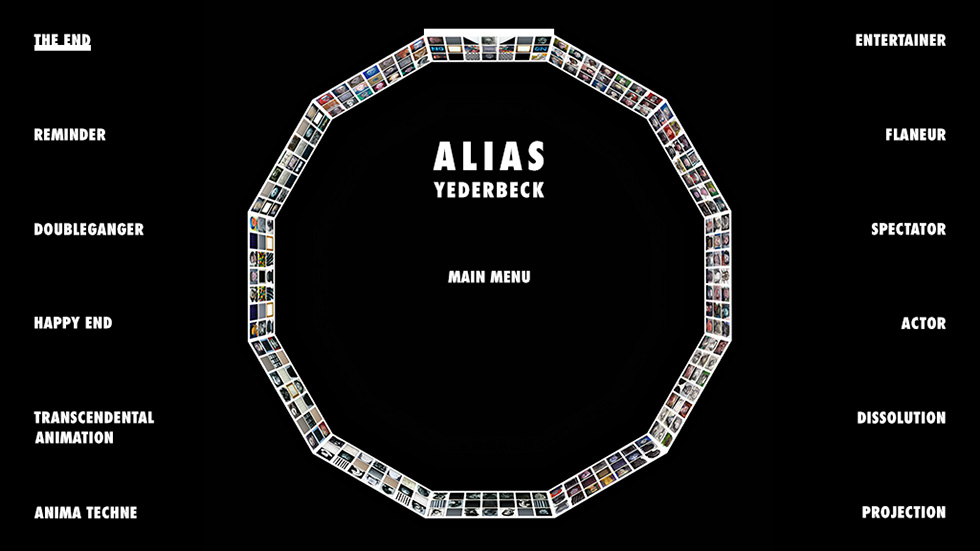 DVD-ROM:
ALIAS YEDERBECK, Virtual Interactive Panorama Installation – real-time system with allocative function, 63:00 min
DVD-Rom system requirements:
Windows: Windows 7 and OpenGL 2.1 or above, Core 2 Duo Prozessor
OS X: Lion or above, Core 2 Duo Prozessor
BOOK:
Alias Yederbeck Images
Ursula Frohne & Christian Katti: Chimären / Chimeras
Yvonne Spielmann: Intermedialität in der kinematografischen Panorama Installation Alias Yederbeck / Intermediality in the Cinematographic Panorama Installation Alias Yederbeck
Suzanne Buchan: Visuelles Heteronym und Animation als Prozess in Frank Geßners Alias Yederbeck / Visual Heteronym and Animation as Process in Frank Geßner's Alias Yederbeck
Alias Yederbeck Credits
280 Seiten, farbige Abbildungen, Deutsch-Englisch / 280 pages, color images, German-English
AY DVD Edition Production: HFF "Konrad Wolf" Potsdam-Babelsberg
AY DVD Edition Distribution: Re:Voir Paris
© Film University Babelsberg KONRAD WOLF (formerly HFF "Konrad Wolf" Potsdam-Babelsberg), 2014
© *ATELIER BERLIN PRODUCTION, Frank Geßner, 2011/2014
All rights reserved. Made in Germany